Our protective packaging product lineup includes bubble wrap, bubble bags, packing peanuts and void fill, foam, paper cushioning, kraft paper, tissue paper, edge and corner protectors.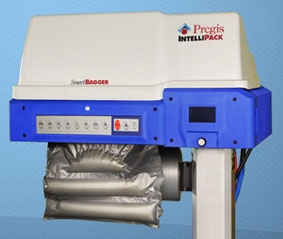 We also offer the IntelliPack® foam-in-place system. Designed with the operator in mind, IntelliPack's intuitive equipment design and responsive controls simplify the packaging process, reduce cost and increase productivity.
AccuFill® is the breakthrough solution to optimizing the amount of void fill used in high volume packaging operations. As boxes come down the line, the AccuFill® sensors scan the box to determine its size, measure the volume of the objects inside the box and compute the amount of paper needed to fill the void. It then signals the FillPak® converter to dispense the exact amount of paper needed — no guesswork required. One of six standard analysis reports will compute the paper usage of the AccuFill® system by collecting data from each box ran through the system.
FillPak® TT with cut mechanism converts fanfold kraft paper into a PaperStar configuration for fast and efficient void filling. In addition to adding a cut mechanism to the FillPak® TT, the upgrade also gives the operator the ability to pre-set paper lengths via an Electronic Delivery System (EDS) mode. The unit can be set up to dispense void fill material in lengths of 12 inches up to 10 feet. The TT with cut mechanism has the same small footprint as the regular FillPak TT and can be easily adapted to any packing environment or integrated into areas with limited space.
Talk with us and we can help you find the right protective packaging for your products.